New two-week tour through diverse habitats around the mouth of the mighty Rio Amazonas as we seek most of the endemics of lower Amazonia.
For an informative overview of all our current itineraries to this country--and how to choose among them--see Field Guides Brazil Tours.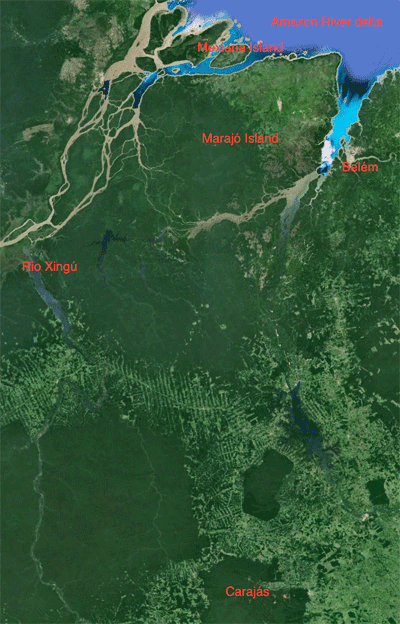 Satellite image of the meeting of the Amazon River with the Atlantic Ocean (image courtesy of USGS/NASA Landsat)
The mouth of the Amazon River is one of the most geographically complicated regions of the entire basin. It is, of course, a vast area as well, encompassing dozens of islands and enormous tracts of seasonally flooded forests bounded all around by terra firme forest that is, unfortunately, being steadily reduced under increasing human pressure. We will see all of this during our two-week birding swing through four select stops designed to give us a chance at finding almost all of the (many!) species of birds endemic to this region of Amazonia.
We'll start with a charter flight from the city of Belem, capital of Para state, to Mexiana Island, affording us fantastic views (with reasonably clear weather, of course!) of the intricate network of riverways and islands that comprise the Delta Amazonas region; Mexiana is set right at the confluence with the Atlantic Ocean. Next comes a flight west to the town of Altamira on the lower Xingu River, where construction of a massive hydroelectric dam is nearing completion and human population expansion has taken a heavy toll on the environment. Still, some productive birding on river islands and a private ranch preserving thousands of acres of tall forest will keep us busy for a few days! Then we'll swing well south and east to the remote Carajas National Forest, an uplifted region where one of the largest iron-ore mines in the world is surrounded by unbroken forest. Our forest birding will be complemented with a couple of final days in estuarine habitats out of Belem.
Just a few of the special birds we hope to see are Scarlet Ibis, Dark-winged Trumpeter, White-crested Guan, Harpy Eagle (fingers crossed for the nest to be active!), Black-banded Owl, Long-tailed Potoo, Golden Parakeet, Vulturine Parrot, Hooded and Black-bellied gnateaters, Black-chested Tyrant, Crimson-hooded and Opal-crowned manakins, and White-tailed Cotinga.
Download an itinerary, triplist(s), request space, and see more about this tour...